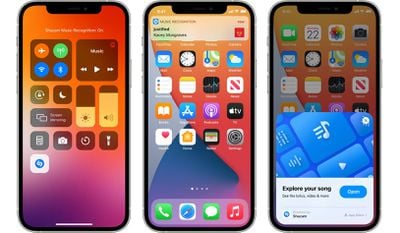 The widely used music detection service Shazam has updated its iOS apps for the iPhone and iPad so that songs recognized by iOS's Music Recognition feature now sync with the Shazam app.
For those who are not familiar with Shazam, the software is made to listen to music playing while identifying the song and artist. Apple's iPhones and iPads have built-in Shazam integration, accessible through the Control Center's Music Recognition button and by asking Siri to identify a song that is playing, whether or not the app is installed.
Shazam has finally rolled out the feature to the current app for devices running iOS 15, contrary to earlier assumptions that the sync feature between Music Recognition in Control Center and the Shazam app was only available on devices running the iOS 16 developer beta.
This version also brings the addition of syncing Shazam history across devices. Previously, Control Center's Music Recognition button only showed the song identification history for the current device when you pressed it for a long time. However, going ahead, it will display all songs that have been identified from any device logged into the same Apple ID, whether it was done through the app or Control Center.
After integrating Siri for years, Apple bought Shazam in 2018, and with iOS 14.2, the system-level song identification feature has been included on Apple's mobile devices.
Apple said in September 2021 that since its inception, the Music Recognition tool in Control Center had identified more than one billion songs across the iPhone and iPad.