With iOS 16, iPadOS 16, and macOS Ventura, a new Lockdown Mode is coming to the iPhone, iPad, and Mac, according to a recent announcement from Apple. According to Apple, the optional security feature is intended to safeguard the "extremely limited number" of users, such as journalists, activists, and government workers, who may be vulnerable to "highly focused cyberattacks" from private companies creating state-sponsored spyware.
According to Apple, the feature will be accessible to all customers when the software updates are released later this year. Lockdown Mode is enabled in the third beta version of iOS 16, iPadOS 16, and macOS Ventura that were announced today. Although the function is intended for individuals who are the targets of cyberattacks, it appears that any user can enable it.
Lockdown Mode can be turned on in the Privacy & Security section of the Settings or System Settings app, where it is by default disabled. Lockdown Mode can be switched off at any moment in the same section of the Settings app after being activated. Restarting the device and entering the passcode are required in order to enable or disable Lockdown Mode.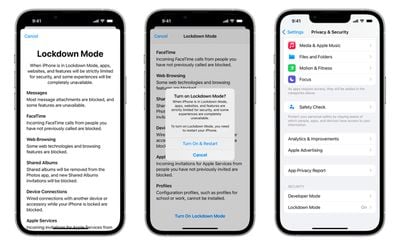 Lockdown Mode, when used, allegedly offers a "extreme" level of protection by severely restricting or turning off the functioning of features, apps, and websites. The following security features will be present in Lockdown Mode at launch:
Most message attachment formats other than photos are prohibited in the Messages app, and some functionality like link previews are not available.
FaceTime incoming calls from individuals who haven't phoned you before are blocked. You are also prevented from receiving invitations for other Apple services from anyone that you haven't previously invited.
Unless the user excludes a trusted site from Lockdown Mode, some sophisticated web technologies and browsing functions, such as just-in-time (JIT) JavaScript compilation, are unavailable. The iPhone, iPad, and Mac's WebKit-based browsers, including Safari, are covered by this protection.
The Photos app will no longer display shared albums, and new shared album invitations will no longer be accepted.
Wired connections to other devices and accessories are disabled when a device is locked.
While Lockdown Mode is activated, configuration profiles cannot be installed and the device cannot be enrolled in mobile device management (MDM).
Lockdown Mode will eventually receive more safeguards, according to Apple. In order to reward researchers who uncover Lockdown Mode exploits and strengthen its defenses, Apple has added a new category to its Security Bounty program. Bounties for successful findings in Lockdown Mode will now be doubled, up to a maximum of $2 million.
Ivan Krsti, Apple's head of security engineering, said in a news release distributed today that "Lockdown Mode is a ground-breaking capability that demonstrates our unrelenting commitment to protecting consumers from even the rarest, most sophisticated assaults." "We will fight tooth and nail to safeguard the tiny percentage of users who are victims of highly targeted cyberattacks, even if the great majority of users will never be."
In addition, Apple disclosed that it will provide $10 million to the Ford Foundation's Dignity and Justice Fund in order to assist groups that look into, expose, and stop highly targeted cyberattacks. Apple announced that it will also give away any monetary awards made as a result of its case against NSO Group, the company behind the spyware Pegasus.
Apple started sending email and iMessage notifications to users who may have been the target of state-sponsored attackers last year.
Please take note that this topic's discussion thread may be found in our Political News section because of its political or social aspect. Visitors to the website and forum members alike are invited to read and follow the thread, but only forum members who have made at least 100 posts are allowed to post.