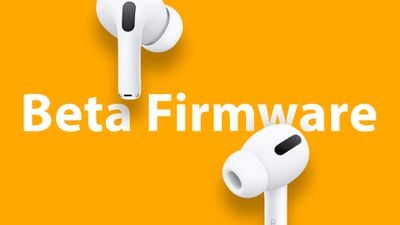 Apple released a beta firmware for multiple AirPods models, including the second-generation AirPods, third-generation AirPods, AirPods Pro, and AirPods Max, after the keynote address at the Worldwide Developers Conference in June. The firmware was upgraded by Apple today, and the version number changed from 5A5282d to 5A304a.
Only developers are eligible to use the new AirPods firmware, which can be downloaded from the More Downloads tab of the Apple developer website. An iPhone running the iOS 16 beta, a Mac running the macOS Ventura beta, the Xcode 14 beta, and compatible AirPods are required to install the beta.
The AirPods must be paired with an iPhone, the iPhone must be connected to a Mac via a Lightning cable, Xcode 14 beta must be launched on the Mac, Settings Developer must be selected, and Pre-Release Beta Firmware must be selected under the AirPods Testing section. Following the activation of the pre-release testing option, updates are distributed wirelessly.
Apple claims that the beta firmware has bug and stability updates in addition to Automatic Switching improvements. After testing is complete, the software will eventually be available for all AirPods, and it may be released this autumn along with iOS 16, iPadOS 16, macOS Ventura, tvOS 16, and watchOS 9.