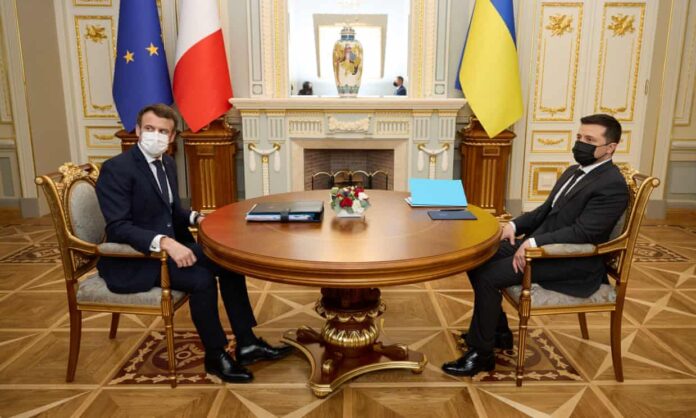 On Tuesday, French President Emmanuel Macron concluded a whirlwind diplomatic mission to Moscow and Kyiv, claiming that he had received personal assurances from Russian President Vladimir Putin that the situation in Ukraine would not worsen.
During talks on Monday with Ukraine's president, Volodymyr Zelenskiy, Macron said Putin made it clear that he would not be the one to escalate tensions. The standoff could take months to resolve, Macron added.
Despite this, Zelenskiy expressed skepticism about his Russian counterpart's apparent commitment to peace. "I do not really trust words. I believe that every politician can be transparent by taking concrete steps," Zelenskiy said at a joint press conference with Macron. Zelenskiy added that "openness is great" as long as it is "not a game".
In spite of Ukraine's military defeat in 2014 and 2015, Macron said on Tuesday that the Minsk agreements were the best way to end the conflict. But Kyiv and Moscow do not agree on what the deal means.
Zelenskiy's government must recognize pro-Moscow separatists in the eastern territories of Donetsk and Luhansk, according to the Kremlin. According to Kiev, the separatists must disarm before a political solution can be found, and implementing the accords could bring the Ukraine state to an end.
Putin had responded to a question about the reluctance of Ukraine to implement the Minsk accords with the following sinister-sounding phrase: "Like it or not, you'll have to tolerate it, my beauty."
Zelenskiy switched to Russian on Tuesday and addressed Putin directly, saying Ukraine was indeed "tolerant" because it wasn't responding to Kremlin provocations. "This tolerance is wise," he said.
It was unclear whether Moscow made modest concessions after two days of intense French diplomacy, as Macron implied, or nothing of the sort. After six hours of frank talks with Macron, French officials reported that Putin had committed not to launch any new "military initiatives".
In response, the Kremlin ridiculed any suggestion that it had made concessions.
In a phone call with reporters on Tuesday, Putin's spokesperson, Dmitry Peskov, denied that the president agreed to de-escalate. "It is completely untrue. Moscow and Paris couldn't come to an agreement. "It's simply impossible," Peskov said, implying a deal with France would be pointless.
Peskov added: "France is a leading country in the EU, it is a Nato member, but Paris is not the leading player. The country in charge here is a different one. Can we discuss deals?"
During a visit to Kiev, Macron clarified reports that he suggested Finlandizing Ukraine as a way to resolve the crisis. During the cold war, Helsinki's nonaligned status was referred to as Findlandization.
According to Le Figaro, Macron discussed keeping Ukraine out of Nato during a flight with journalists. Macron said on Tuesday he'd never used that formula. It was not repeated. He said the Normandy format, involving officials from France, Germany, Russia, and Ukraine, was the best way to advance the process.
Biden administration rejects Putin's demand that NATO exclude Ukraine from membership.
Dmytro Kuleba, Ukraine's foreign minister, said his government would not abandon its long-held principles. Ukraine's right to make its own security decisions, including over Nato, and its refusal to negotiate with Moscow-backed separatists was among them. "No one will be able to force us to cross them," he said on Tuesday.
France's official said Macron agreed during the talks to "open a dialogue on strategic questions," but did not elaborate on what this dialogue might entail.
Macron is the most senior western leader to meet Putin since Russia began massing troops near Ukraine last autumn. According to reports, the Kremlin has deployed about 140,000 soldiers around Ukraine's borders and will begin major military exercises in Belarus on Thursday, within striking distance of Kiev. These exercises are set to last until the 20th of February.
It is unclear whether the Kremlin will then withdraw tactical battalions from Belarus or remain closer to Ukraine, even if it does.
For the past several weeks, western states have said they fear an invasion by Russia. Despite this, Putin has said he may take "military-technical measures" if his security demands are not met. Nato should return to its 1997 deployment levels and withdraw from central and eastern Europe, he says.
Oleksii Reznikov, Ukraine's defence minister, said Kyiv would conduct parallel exercises in conjunction with Russia and Belarus. The demonstrations would take place throughout the country, including near the Belarusian border in Chernihiv. According to Reznikov, Russia had deployed 140,000 soldiers and 72 battalion tactical groups, 11 of which were in Belarus.
Orysia Lutsevych, the head of Chatham House's Ukraine forum, said Putin was racking up a series of tactical victories against the White House and its western allies. "His strategy is to plant discord," she said, adding that he might drag out this crisis for months to come.
"Putin offers a miracle of a solution," she said. Having the ability to claim: "I found it!" is very alluring for western leaders. His message is, 'I'm the saviour of Europe.' He plays on people's egos. Macron is no exception."
In a meeting with Macron in the Kremlin on Monday, Putin argued that if Ukraine joined Nato it would inevitably lead to conflict with Russia due to Ukraine's claims to Crimea, which Russia annexed in 2014.
Why do you think France should fight against Russia? Ask your readers, viewers, and web users. That's how it's going to be, said Putin, angrily lecturing a French journalist.